You are here
Eichberg Hall at the Savannah College of Art and Design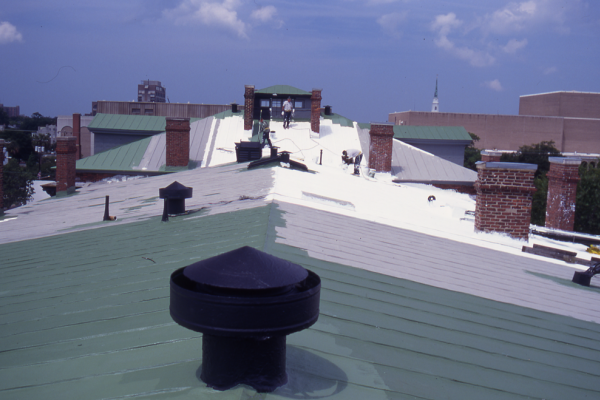 The same technology used by NASA on the Space Shuttle has been selected for the historic preservation of the massive tin roof at the Savannah College of Art & Design (SCAD). Although the parameters for both projects are worlds apart, oddly enough, both have a key requirement in common: the need for high-performance protection from environmental extremes.
SCAD needed a solution to repair and preserve the tin roof of Eichberg Hall, a three-story Romanesque structure built in 1887 that houses classrooms and studios for future architects, interior designers and preservationists. Designed by Alfred Eichberg and Calvin Fay as an administrative building for the Central Georgia Railroad company, Eichberg Hall had a 20,000 square-foot tin roof in need of repair from more than a century under the elements.
The state of the roof posed a dilemma for the school. Previous asphalt coatings had cracked in a number of places, exposing the underlying tin roof to damage. SCAD was forced to patch the roof on a continual basis. "Our first thought was to replace the entire roof," says Kate Firebaugh, preservation specialist at SCAD. "Although a new roof would have lasted another hundred years, we felt the cost was prohibitive," notes Firebaugh. Fortunately, she came across the Acrymax Roof Restoration System, designed to seal and protect historic tin roofs. The combination of Acrymax elastomeric coating and a high-strength polyester reinforcing fabric forms a composite membrane that offers dimensional stability and high durability. The liquid-applied coating and reinforcing fabric was applied to the roof of Eichberg Hall in stages over a period of weeks. 
"With the Acrymax roofing system we now have a weatherproof tin roof for Eichberg Hall that looks brand new, retains the historic character of the building and costs less than one-half of what a whole new roof would have run."
Firebaugh expects the refurbished roof to last at least 30 years, with periodic maintenance recoating.