You are here
Tin Roofing Today vs. 19th Century Tin Roofing
Submitted by

rachel

on Wed, 05/22/2013 - 09:43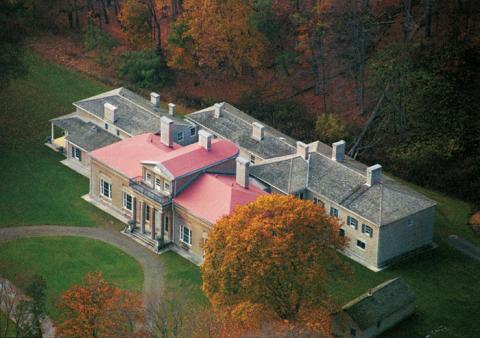 There are many differences in tin roofing today and how it was originally done in the 19th Century. The New York State Historic Trust (NYSHT) wrote a book in 1971, 19th Century Tin Roofing and Its Use at Hyde Hall. This book discusses the different methods and materials for tin roofs in the 19th century as well as those used specifically at Hyde Hall. 
In terms of materials, tinplate was used as a roofing material but then replaced with terneplate. Terneplate is an iron or steel sheet coated with lead and tin; whereas tinplate is an iron or steel sheet coated only with tin. 
Solder was used to to fill the joints of the metal to create a weathertight roof. However, repairs to leaks were tackled in a different manner. The book by the NYSHT lists instructions that were written for buildings with tin roofs. These instructions are listed below: 
"25 lbs. yellow ochre, 1 lb. litharge, 6 lbs. black lead, 1 lb. fine salt; boil well in oil. Soak strips of cloth in the above and paste over the seams. Good where solder is not practicable."
Sound familiar? This process is not too different from the use of Acrymax Reinforced Coating Systems. Acrymax however is much easier and safer to use. No need to work with boiling lead and oil, simple use a waterborne elastomeric coating with high strength polyester fabric and the same watertight membrane is created.
Based on the NYSHT book, there was a particular schedule for painting a tin roof. The first time the roof was painted was thirty days after it was put on. Then it would be painted again in about a year, then again every three years.  With today's waterborne elastomeric technology, you can design a system to last anywhere for 5 to 15 years depending on the original system. Those system are easily extendable. 
Hyde Hall was used as an example project in 1971 for the aforementioned book. It is also a great example of Acrymax coatings. Hyde Hall has enjoyed waterproofing and aesthetic benefits of Acrymax coatings for several years and continues to utilize these coatings to maintain the historic character of their building. 
With Acrymax now you can easily coat tin roofs and make them weatherable. The process is a lot easier than it was done back in the 19th century!
Click here to check out more about Hyde Hall.