You are here
Protecting Fort Sumter
Submitted by

rachel

on Wed, 04/10/2013 - 15:33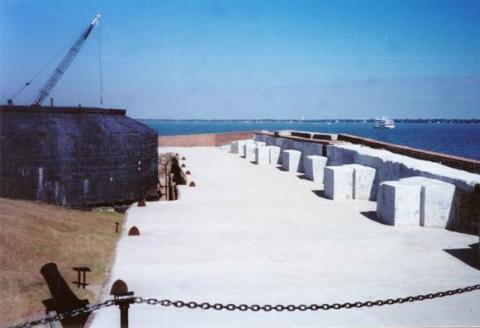 Fort Sumter is located in Charleston Harbor, South Carolina. It was here that this week 152 years ago on April 12th 1861 the Civil War would begin when Confederate artillery began the bombardment of the fort. After 34-hours of artillery fire the Union surrendered. The Confederacy would hold the fort until they finally abandoned it prior to Sherman's capture of Charleston in February 1865 almost 4 years later. The conflict would claim the lives of over 600,000 Americans.
After the Civil War, Fort Sumter was in ruins. Some work was done on the fort after the war, but a shortage of funds led to the suspension of this activity. The Spanish American War in 1898 prompted the construction in 1899 of a battery of two long-range rifled cannon at Fort Sumter. The fort was ultimately restored and manned during the Spanish-American War, World War I, and World War II.
Over 100 years later the concrete casemates were being damaged by the water leaking through the concrete roof. In 2000 Preservation Products working closely with historic architects of the National Park Service custom designed a coating system for the concrete casemates. The elastomeric coating system has proven to be just what was needed and 13 years later remain leak-free. It has led the Park Service to specify our products on other applications at Fort Sumter, as well as Fort Moultrie.  
Today you can visit the site where the Civil War all began. You can also check out the great work Preservation Products did on the fort. 
Click here for more information of Fort Sumter.