You are here
Oh, say does that Star-Spangled Banner yet wave…………
Submitted by

eric

on Thu, 09/18/2014 - 17:38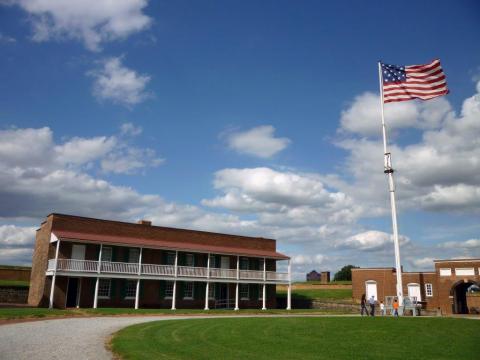 Last week Acrymax exhibited at the Construction Specifications Institute's Construct 2014 Expo in Baltimore, MD.  Expos such as this allow Acrymax to tell our story and meet people who can benefit from our high-performance coating systems. We enjoyed meeting with many interested and interesting specifiers, architects, and building owners.
Construct 2014 wasn't the only event going on in Baltimore last week.  Our National Anthem, The Star-Spangled Banner, turned 200 years old on Sept. 14th 2014 and a variety of celebrations took place from the Inner-Harbor to Fort McHenry itself.  It was because of Fort McHenry and the War of 1812 that the words of Francis Scott Key would ultimately become so well known.
Fort McHenry is a coastal star-shaped fort situated in a position to defend the City of Baltimore and its Inner Harbor. It was constructed between 1799 and 1802. During the Battle of Baltimore from September 13-14, 1814 the valiant defense of the fort inspired Francis Scott Key to pen the "Star Spangled Banner" and write his storied words about a young nation's flag, but more importantly its people. Key's poem and borrowed melody did not become our Nation's anthem officially until Congress passed a resolution in 1931, which President Hoover signed into law that same year.
Fast forward to 2013, and the National Park Service at Fort McHenry along with the Historic Preservation Training Center from Frederick, MD decided to preserve and protect the metal roofing on the fort with a coating system.  Preservation Products, Inc. supplied the Acrymax coatings for this project. The National Park Service opted to use Acrymax  elastomeric coatings which contain recycled content. These coatings are formulated with over 40% recycled content allowing the National Park Service to not only achieve its goal of preservation of the standing seam metal roofs of the fort, but do so in an environmentally conscious manner.
It is fitting that our coatings were chosen for use at Fort McHenry. A fortification such as Fort McHenry by definition "defends", and Acrymax does this as well. Acrymax high performance coatings are formulated to provide the very best defense of your building from the damaging effects of the weather. Acrymax has also been used on Fort Sumter, Fort Mackinac, and Fort William Henry among others. When you need the best defense, you need Acrymax………